Crazy Cavan: A Rockabilly Star In Heaven
By Vintage Rock | July 7, 2020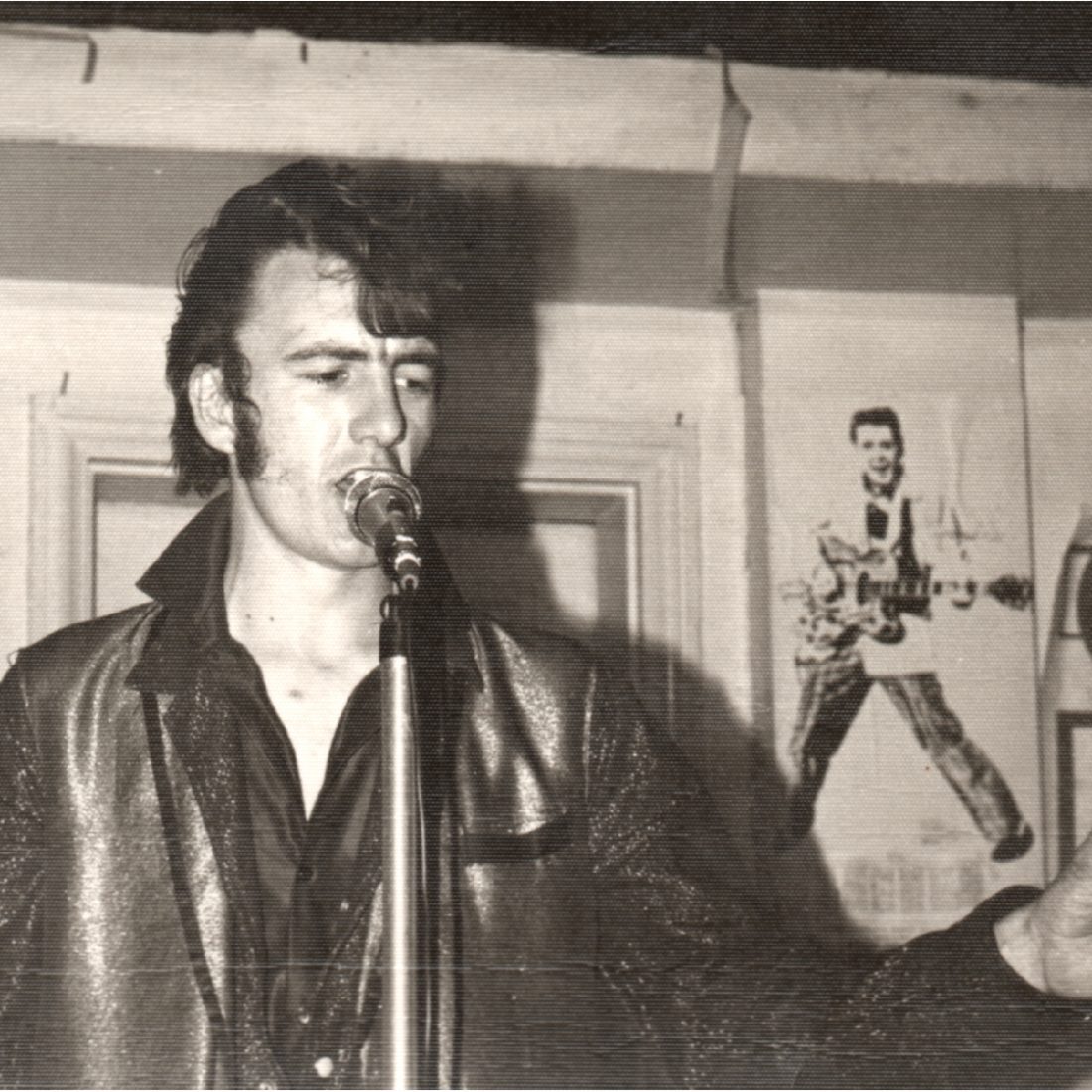 As the rockin' world mourned Crazy Cavan Grogan's death in February, Levi Dexter, Boz Boorer, Linda Gail Lewis, DJ Geoff Barker and others recalled his pioneering role in the 70s rockabilly revival…
by Douglas McPherson
Crazy Cavan Grogan was a preservationist. Having discovered rock'n'roll as a seven-year-old in 1957, via the Elvis film Loving You, he was mortified to find the music disappearing from the airwaves before he'd even reached his teens. In response, he dedicated his life to keeping the music alive. But although Crazy Cavan And The Rhythm Rockers spearheaded the European rockabilly revival in the 1970s, the late singer was as much an innovator as a revivalist.
The band dug deep beyond the music of the well-known rock'n'roll stars and took inspiration from the rarer, rawer, rockabilly sounds of, at the time, forgotten American artists like Charlie Feathers and Hardrock Gunter (The Rhythm Rockers were in fact named after Gunter's band). Cavan put a new spin on those southern-fried sounds. He was the first songwriter to write about the clothes and culture of those distinctly British post-war youth cults, the drape-coat-wearing Teddy Boys and the leather-clad rockers, in songs like Teddy Boy Boogie and My Little Sister's Got A Motorbike.
Having started out in the late 60s when rock'n'roll was at its least fashionable, Cavan led the music's resurgence throughout the 70s and became a primary inspiration for a new generation of teenage musicians like The Polecats, The Jets, and Levi Dexter and The Rockats who picked up the baton and returned rockabilly to the mainstream on the cusp of the 80s. "The whole scene was down to Crazy Cavan And The Rhythm Rockers," says rock'n'roll DJ, Geoff Barker. "In my opinion, they were THE most influential band in British rock'n'roll, full stop. Not just in terms of the music and the bands that came after them, but because they created such a big rockabilly scene in the U.K. that original American artists like Mac Curtis and Charlie Feathers were able to come to England. Without Cavan,
no one would have known about them. The Rhythm Rockers were the band that opened the door."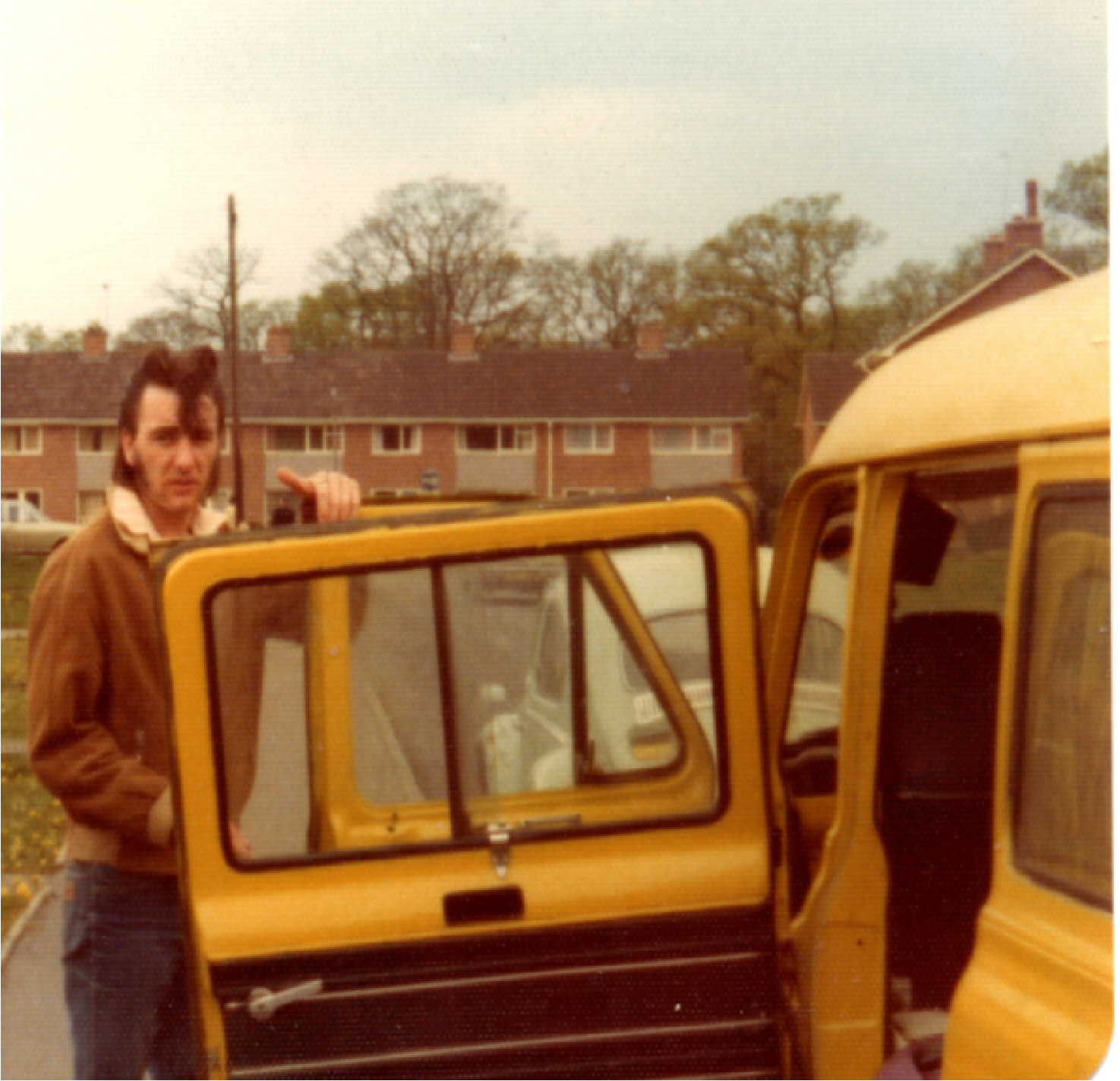 Opening doors: Cavan outside his house in Newport, Wales, 1976 (Credit: Ritchie Gee)

Cavan Grogan was born in Leicester on 18 February, 1949, but spent his early childhood in County Mayo, Ireland, before his family relocated to South Wales. It was there that the young Teddy Boy teamed up with fledgling lead guitarist Lyndon Needs and Needs' cousin, the rhythm guitarist Terry Walley. By the end of the 60s, the line-up of The Rhythm Rockers was completed by bassist Don Kinsella and drummer Michael Coffey.
After cutting their teeth in local social clubs, the band headed for London to audition for a spot at a rock'n'roll pub called the Fishmonger's Arms, where they became a regular attraction.
Among those who saw them was Ritchie Gee who went on to become the band's roadie and later established the Wildest Cats In Town weekender, named after Cavan's song Wildest Cat In Town. "I distinctly remember seeing Crazy Cavan for the first time in 1971," says Gee. "I thought, 'Wow, this is a fantastic band with a wild singer.' Cavan was getting the audience so wound up with excitement that anything could happen – and it always did!
"Crazy Cavan was a one-off and a fantastic singer with a powerhouse voice; one of the best to have ever come out of the UK rock'n'roll scene."
To capitalise on their growing popularity, the band pressed 1,000 copies of Cavan's song Teddy Boy Boogie to sell at gigs. According to rockabilly hepcat Levi Dexter, the record was "a game-changer. Finally Teddy Boys had an anthem."
The Rhythm Rockers followed up with a four-track EP, a copy of which found its way into the hands of Geoff Barker while he and fellow DJ Stuart Coleman were spinning the discs at the Castle pub in London's East End. "A guy came up and said, 'This is the best rockabilly band in the country,'" says Barker, who currently presents a Sunday night rock'n'roll show on BBC West and Southwest and BBC Sounds. "He showed me a copy of their first EP, which had songs like Wildest Cat In Town and Rockabilly Star, and said, 'You ought to play this.' We did – and everyone went crazy."
The Rhythm Rockers' fame spread nationwide after they played the First Ever British Rock'n'Roll Festival at Alexandra Palace in London, in 1973, on a bill headlined by Screaming Lord Sutch.
"That really kick-started them," says Barker, "because there were people there from all over the country saying, 'Who's this band? Where did all these songs come from? Who's this Charlie Feathers and Mac Curtis that they're talking about?' No one had heard of those artists at the time."
The band had learned of artists like Feathers, Curtis and Warren Smith from their drummer's elder brother, 'Breathless' Dan Coffey, who was one of the first collectors to travel to Memphis and import rare and forgotten rockabilly records into Britain.
"They were very fortunate, because they were getting to hear all those songs and started doing them before anyone else," says Barker. "When they went up to London, all the other rock'n'roll bands were doing all the standards like Be Bop-A-Lula and Whole Lotta Shakin' Goin' On, and Cavan didn't do any of that. They were doing all this rare rockabilly that hadn't been released in England." Even more noticeably, Cavan was performing original songs about Teddy Boys. "That was the key to it," Barker confirms. "They were unashamed Teds, they appealed to the Ted audience and they wrote about Teddy Boy culture. No one else had ever done that."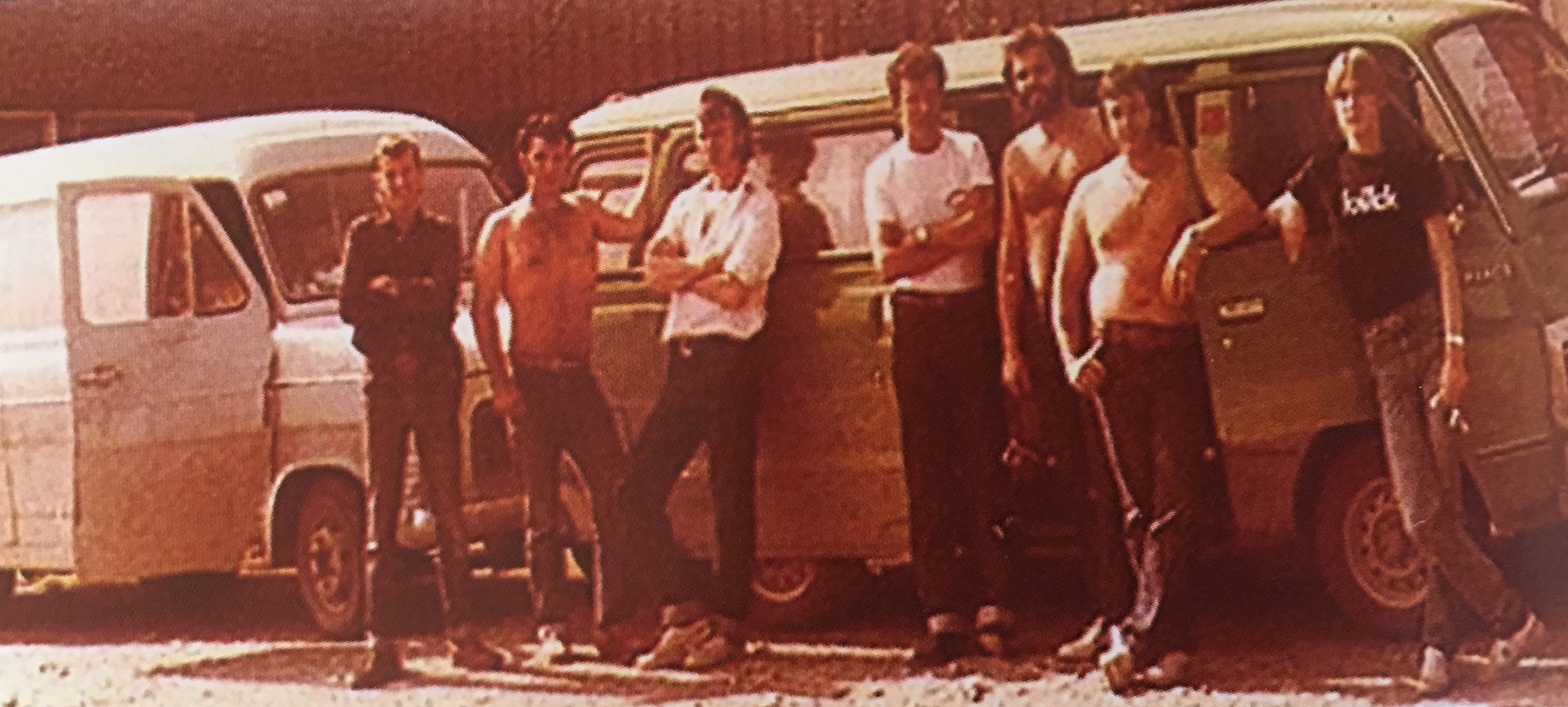 On the road again: The Rhythm Rockers in Finland in 1980
Among a new generation of musicians inspired by Cavan was guitarist Boz Boorer, whose band The Polecats would hit the charts with Rockabilly Guy in 1981. "I first heard Crazy Cavan on some records that belonged to our first drummer's brother. He was a Ted and was older than us," Boz remembers. "I first saw them at the Orange Tree pub in north London and I remember the amazing strength in their sound. Cavan was my favourite band for a long time and I saw them a lot in different venues around London as a teenager.
"When The Polecats played our first gig there were about eight Cavan songs in our set. We all wanted to be Lyndon Needs and jumped around like epileptic hillbillies. I always liked Teddy Boy Rock'n'Roll and I copied the solo in Rockabilly Guy."
Levi Dexter made his stage debut thanks to Cavan at the Pier Bar on Southend seafront in the mid-70s when he was 17. "They played there often and I still look back on it as some of the best times ever," Dexter enthuses. "When Cavan was playing we would all sing along and end up on stage just screaming on the guitar breaks. I used to lift Cavan up on my shoulders while he was still singing. It was always wild and crazy. Then one night out of nowhere in the middle of a show he asked, 'Hey, son, do you want to get up here and sing one?' I didn't think about it. I just jumped up and sang Long Tall Sally with them. It was surreal – an out of body experience done without preparation or thought. I was on cloud nine."
Summing up Cavan's appeal to teenage Teds, Dexter says, "The original songs were as great as anything from the 50s to us back then – and they were about us. They knew what the Teds wanted and they gave it to us every time. Each week we would ask, 'Where's Cavan playing?' and plan to see every show if it was at all in range.
"They influenced me to write original songs when most on the Ted scene wanted to hear bands play 50s oldies exactly like the record," Dexter adds.
The Rhythm Rockers played a part in some of the pivotal moments of the rockabilly revival.
When 7,000 fans marched on the BBC in May 1976 to demand a weekly programme dedicated to rock'n'roll, the demonstration culminated with a gig headlined by Cavan at Picketts Lock. When the demanded show, It's Rock'n'Roll, was launched on Radio One, hosted by Geoff Barker and Stuart Coleman, The Rhythm Rockers were the first band to play live on it. The following year they opened a landmark show at London's Rainbow Theatre that was the first to prove there was a British audience for U.S. originals such as Charlie Feathers, Jack Scott, Buddy Knox and Warren Smith.
When the first rockabilly weekender was staged at Caister in 1979, Cavan was among the standout performers, twisting an imaginary motorcycle throttle while he mimicked the rev of an engine on My Little Sister's Got A Motorbike. The festival, which also featured Bill Haley And The Comets, was immortalised in the documentary Blue Suede Shoes. Cavan toured all over Europe and also America where a riotous show at Max's Kansas City, a punk and new wave club, inspired Brian Setzer and Slim Jim Phantom to launch the Stray Cats in Britain as opposed to America where rockabilly was largely forgotten. Alas, when the Stray Cats stormed the UK charts at the beginning of the 80s, along with British revivalists Shakin' Stevens, Matchbox, The Jets and The Polecats, The Rhythm Rockers were unable to capitalise on the genre's commercial breakthrough.
Barker blames the band's lack of chart action on their record company, Charly, which was primarily focused on releasing oldies (including the hits Jungle Rock by Hank Mizell and Leader Of The Pack by The Shangri-Las). "I don't think they had another contemporary band and that's why Cavan didn't get the push and promotion. The label was concentrating on previously unreleased Jerry Lee Lewis stuff, whereas Matchbox went with Magnet, which was much more pop-orientated," the DJ opines. Within the rock'n'roll world, however, Barker says. "It didn't matter that they weren't on Top Of The Pops. Everyone knew they were the number one band in the country and they didn't need a chart position to tell them."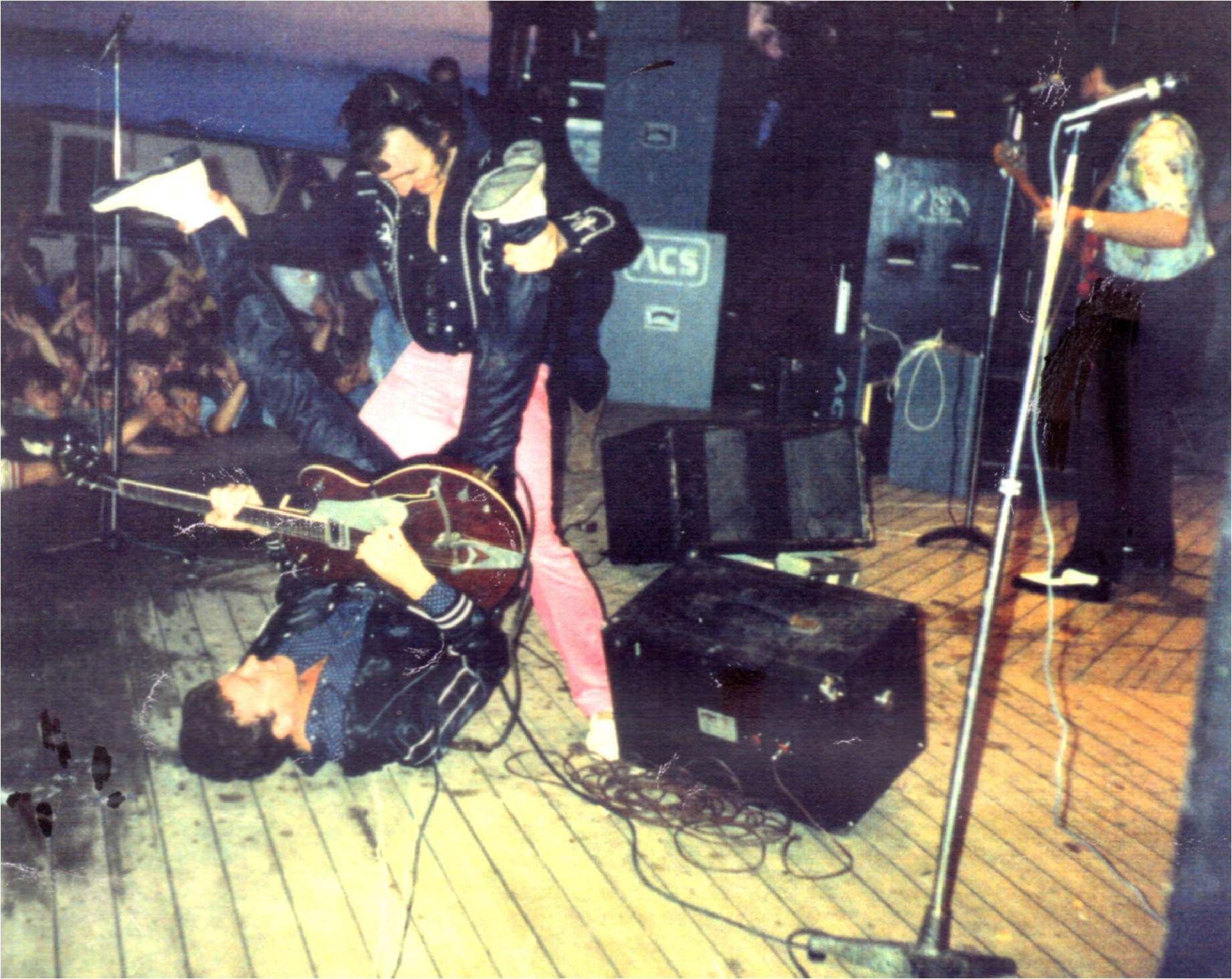 Rip this joint: Onstage antics in Finland (Credit: Ritchie Gee)
An absence of hits may have even enhanced Cavan's credibility at a time when Matchbox and Shakin' Stevens were receiving a backlash from hardcore rockin' fans. "I can remember playing Shaky's This Ole House at gigs when it was at No.1 and people booing," says Barker. "People would come up and say, 'Why are you playing this pop crap?' I'd say, 'It's a really great piece of rock'n'roll,' but they'd say, 'He's sold out.' It was that purist attitude. But Crazy Cavan And The Rhythm Rockers were seen to have never sold out to anybody."
Cavan did have a taste of stardom, however, when the band leased their album Still Crazy to a Finnish label – and scored a gold record in Finland. As Cavan's son Joe put it, "The band was too gritty and real for the mainstream, but there were times that they broke through in places and couldn't be stopped by the rules and regulations that come with the pop music formula."
By 1982, The Rhythm Rockers were burnt out and for a while reverted to day jobs. It wasn't long, however, before the road called the band back together, initially at weekends and then full time once more. They continued to make new albums including Roaring Through The Night, Hey Teenager and, their most recent, The Real Deal, in 2015.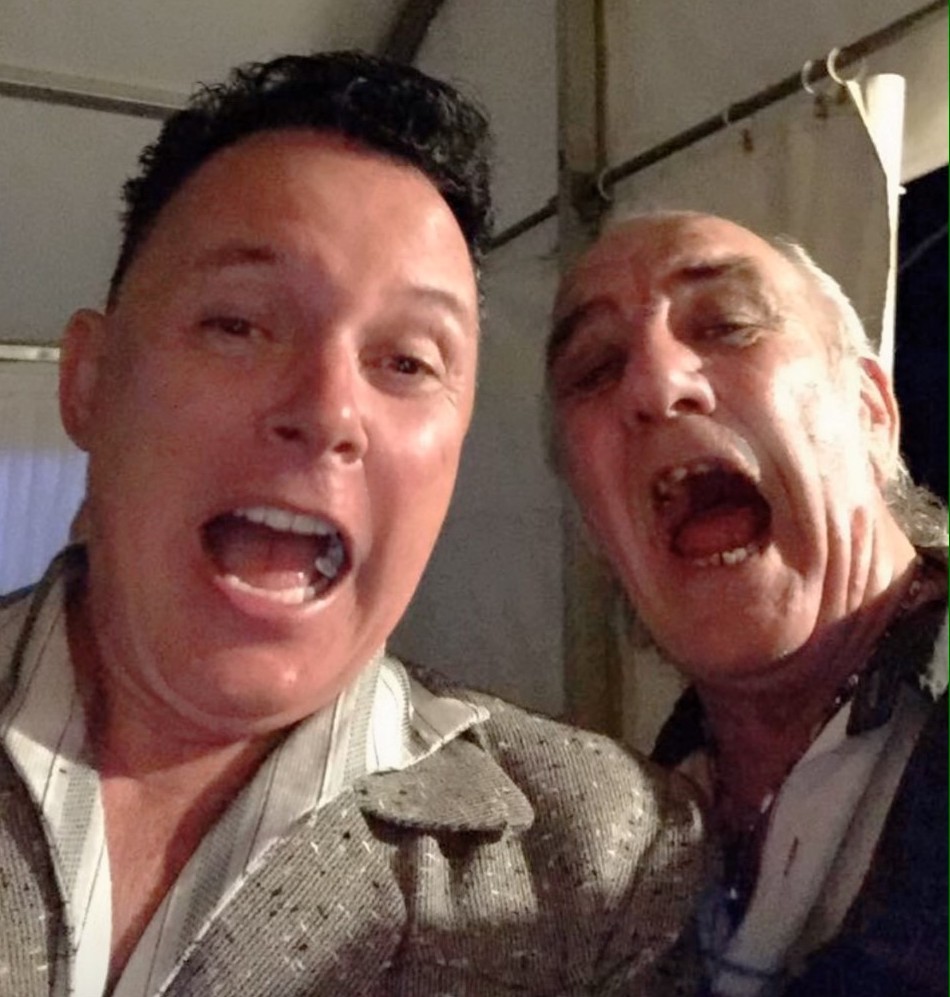 Playing up to the camera: Cavan (right) with Levi Dexter of Levi And The Rockats
At the time of Cavan's death on 15 February 2020, The Rhythm Rockers remained one of the biggest draws on the rockin' scene. His last performance was at the annual Rockers Reunion on 18 January, where the band had closed the show for the past 35 years. Having worked countless gigs and weekenders with Cavan, how does Barker remember the Welsh songwriter as a person? "Anyone who saw him on stage would think he was an absolute wild man. But I remember him sitting quietly in the dressing room, just chatting, happy to talk about rock'n'roll and Screamin' Jay Hawkins and the people he'd seen. He was a really nice, quiet, mild-mannered, amazingly polite, friendly guy – completely belying his amazing image on stage."
As for Barker's favourite Cavan song, the DJ doesn't hesitate. "Wildest Cat In Town. That to me sums up Cavan in a nutshell. The song, what it's about, how he wrote it. The fact that he was getting aggro from a tailor in Newport, and he came out and wrote the song on the back of a fag packet. That's how all rock'n'roll songs should be written!"
---
Cavan Remembered
Linda Gail Lewis shares her memories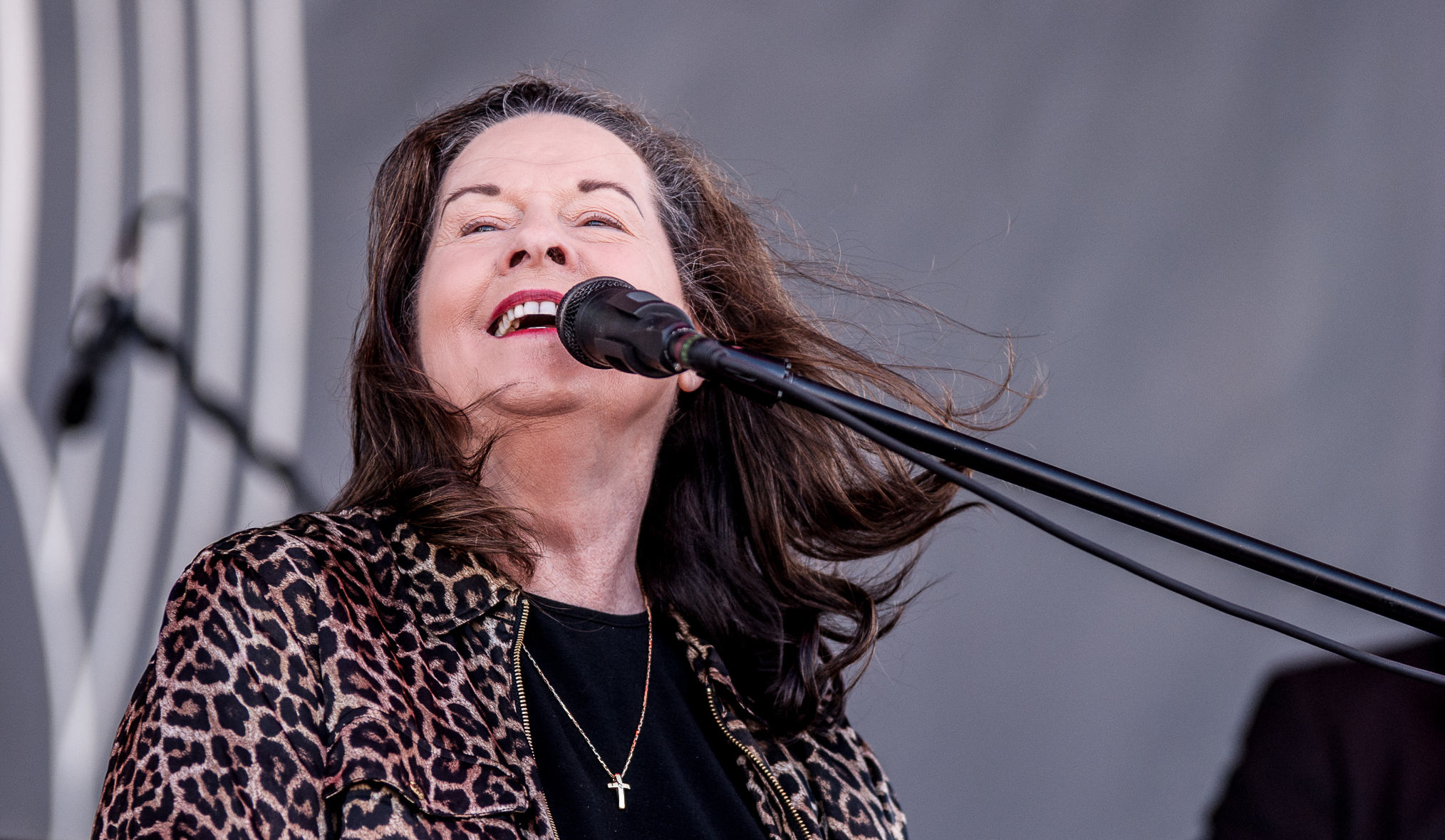 Linda Gail Lewis worked with Crazy Cavan when she added her family's patent pumpin' piano rock to eight tracks of the band's 2001 album Rhythm Rockin' Blues. Naturally, the Killer's sister also shared a stage with The Rhythm Rockers at countless European festivals. "The most recent was the Screamin' Festival in Spain in 2018," says Lewis. "Cavan invited me to join him on stage. He sang Hello Josephine but changed it to Hello Linda Gail. We had a blast. You can find it on YouTube."
Perhaps unsurprisingly, her favourite Cavan track is Old Black Joe, which he based on the Jerry Lee Lewis arrangement. "I recorded it on a couple of my albums and even though I grew up with and love my brother's version best of all, I also love Cavan's version. I was influenced by both."
Linda Gail's daughter Annie Marie Lewis, meanwhile, has recorded Cavan's My Little Sister's Got A Motorbike. "Cavan was an amazing entertainer!" Linda Gail proclaims. "He is a legend for sure. He was always the biggest hit on every festival and he and the guys always did a great show. It was always fun hanging out with them and I spent some time in the dressing room with them before the Screamin' show. Cavan was a very sweet and kind man. He was loved by so many. Rock'n'roll will never be the same without him. It's a big loss to all of us."
---
Ten Crazy Tracks
Our pick of Cavan's greatest recordings
Teddy Boy Boogie (Crazy Rhythm, 1973)
Adapted by Cavan from an old street song, The Rhythm Rockers' first single swiftly won the hearts of the crepes and drapes fraternity upon its release in 1973. The menacing slow-burning lyric about a chain-swinging, flick knife-wielding, throat-slitting Teddy Boy remains the ultimate Ted anthem and probably the band's best-known song.
Wildest Cat In Town (Crazy Rhythm, 1974)
Another hymn to Teddy Boy fashion, Wildest Cat In Town was inspired by Cavan's conversation with a tailor who tried to dissuade him from having such a long jacket. The song about a "powder blue jacket with a velvet cuff" headlined the band's second release, a four-track EP, in 1974.
Rockabilly Star (Crazy Rhythm, 1974)
Only those in the know had even heard of the word 'rockabilly' in 1974, but this track from The Original Sound Of Crazy Cavan And The Rhythm Rockers EP left no doubt about Cavan's aspirations as he stuttered and hiccupped his way through the catchy refrain: "I wanna be, I wanna be, I wanna be a rockabilly star."
My Little Sister's Got A Motorbike (Charly, 1977)
'Write what you know' is time-honoured advice and as the first songwriter of his era to chronicle Ted and rocker culture, Cavan did just that. His little sister really did ride a motorbike. You can almost feel the breeze as she roars by, white scarf flying, in this portrait of a café racer.
Both Wheels Left The Ground (Charly, 1979)\
Supercharged by the ivory-pounding of Balham Alligator and Shakin' Stevens sideman Geraint Watkins, The Rhythm Rockers have never rocked harder than they did on this high-octane motorbike song about a leather-clad rocker "shooting down the highway like a bullet from a gun." You can almost smell the exhaust fumes.
Sweet Baby Jean (Charly, 1976)
Not quite a ballad, more of a slow rocker ideally suited to doing the stroll, Cavan nevertheless showed his gentler side on this lean and tender echo-drenched love song. An equally restrained guitar solo by Lyndon Needs completes a simple but affecting cut that has always been a fan favourite.
Sadie (Rockhouse, 1975)
With its itchy, clicky, Sun-era Johnny Cash rhythm and an irresistible guitar hook from its composer, Lyndon Needs, this beguiling little love song manages to be a slowie and a foot-tapper at the same time. Cavan reaches low for the Cash-like notes on one of the RhythmRockers' catchiest cuts.
Put A Light in The Window (Big Beat, 1981)
A greasy Ted band like The Rhythm Rockers was never going to be on Top Of The Pops, but Cavan's attempt to do with this 50s pop song by The Four Lads what Shakin' Stevens' had done with Rosemary Clooney's This Ole House was the closest they came to a pop record.
Knock Knock (Charly, 1976)
An air of guilt and paranoia pervades this moody mid-pacer about a man nervously wondering who knocked on his door last night. The "Ooo-ooo-ooo" backing vocals maintain the jumpy atmosphere right up to the final cry, over the fade, of "Who the fuckin' 'ell's there?"
Old Black Joe (Charly, 1977)
As well as writing originals, Cavan could sing an oldie with the best. This moving plantation melody, penned by Stephen Foster in 1860, was more than a hundred years old. The arrangement naturally follows Jerry Lee Lewis' rocked-up Sun cut but The Rhythm Rockers give it their own chanka-chank sound.