Vintage Rock Presents Cliff Richard is on sale now!
By Vintage Rock | March 8, 2018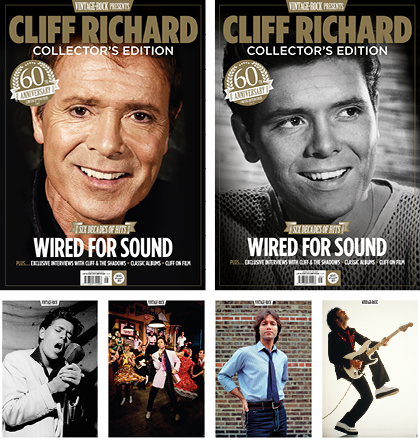 In this latest special collectors edition of 'Vintage Rock Presents' we celebrate 60 years since Cliff Richard first landed with his earth-shaking debut single 'Move It', considered by many to be the UK's first bona fide rock'n'roll song.
Get your copy here.
Digital copies are available here.
Over 132 pages, we track Cliff's momentous career from his birth in India and modest upbringing in the Hertfordshire suburbs, through to meeting his band, early rock'n'roll stardom and his light-speed ascent to massive mainstream success.
Inside, we score a wealth of insider knowledge via in-depth interviews with three of the remaining members of the Shadows – Hank Marvin, Bruce Welch and Brian Bennett – who discuss their formation, their rise to rock'n'roll fame and on to later triumphs. We also chat with Cliff himself about his incredible career and future plans.
We keep things further up to date via a chat with Richard's producer Steve Mandile, who discusses those recent successes, shares his insight on the singer's return to rock'n'roll and adds colour to Cliff's highly productive later years.
In our Top 40 rundown, we survey what is an incredible record-breaking catalogue – from signature songs to lesser-spun gems, we take a seat at the cinema to explore his big-screen portfolio, plus we delve into the best – and rarest – of his vinyl output. Here, we pay tribute to a true superstar and a national treasure.
This issue is now available in WHSmiths, Sainsbury's, Easons and independent retailers. 
You can also order your copy of this issue today for just £7.99 (inc.P&P) HERE