The new issue of Vintage Rock is on sale now!
By Vintage Rock | December 15, 2016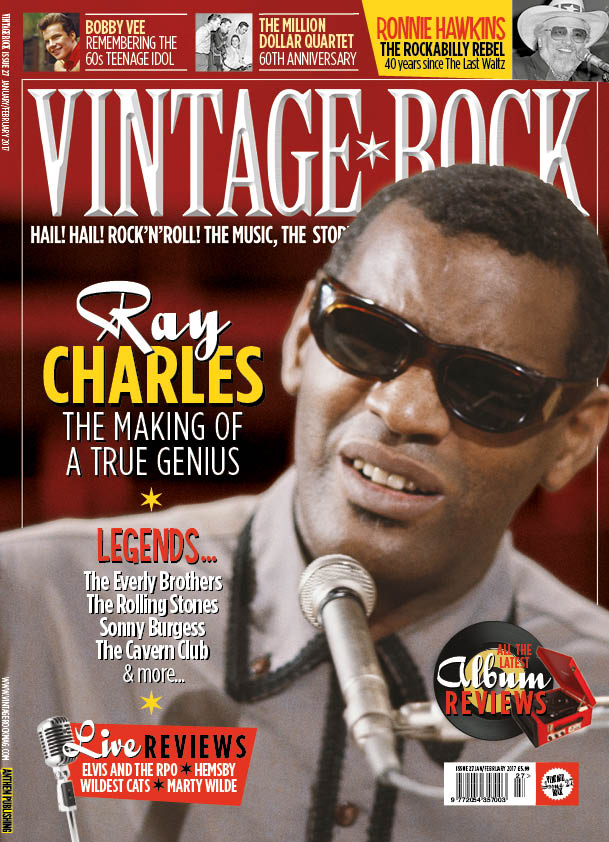 The new issue of Vintage Rock magazine is on sale now!
Available now from WH Smith, Tesco and independent newsagents, the latest issue includes our cover story on Ray Charles – a musical giant who played a huge part in the development of R&B, rock'n'roll and soul. Randy Fox pays tribute to this most remarkable of men with our feature devoted to one of the few figures who really lives up to the epithet "genius".
We also mark the 60th anniversary of the historic Million Dollar Quartet recording session featuring Elvis, Jerry Lee Lewis, Carl Perkins and (possibly) Johnny Cash. A once-in-a-lifetime and never-to-be-repeated single day where the biggest stars of rock'n'roll gathered around the piano to sing their favourite songs. It's also 40 years since another seminal moment in rock, The Band's Last Waltz, and we celebrate that magical concert with a look back at one of its star players – rockabilly rebel Ronnie Hawkins.
Elsewhere, we pay tribute to teen idol Bobby Vee who passed away in October and celebrate the return of The Rolling Stones who are back with what many believe to be their most vital and spiky material in three decades on new covers album Blue & Lonesome. We take a look at the blues roots of the band as well as the original artists who have inspired this crackling new 12-song collection.
The Stones' old sparring partners The Beatles owed a huge debt of gratitude to Liverpool's Cavern – in another of our features, we delve into the club's history and talk to Debbie Greenberg whose family once owned the illustrious venue.
Enjoy the issue! Buy your copy here: bit.ly/2hztHX4
Steve Harnell
Editor
Vintage Rock magazine