Vintage Rock Issue 24 Out Now + FREE CD!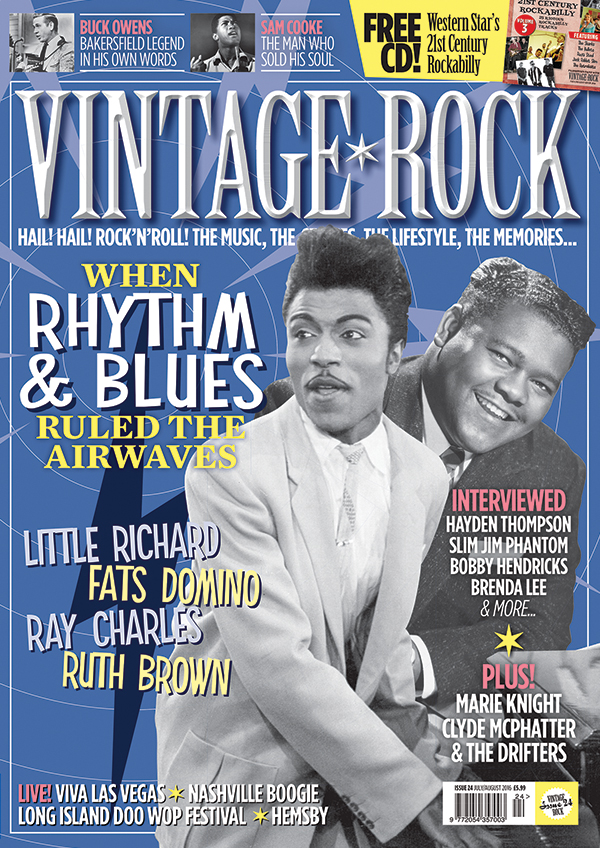 On sale now in store (£5.99) and online: http://bit.ly/28PFM6N ( £7.40 P&P Incl.)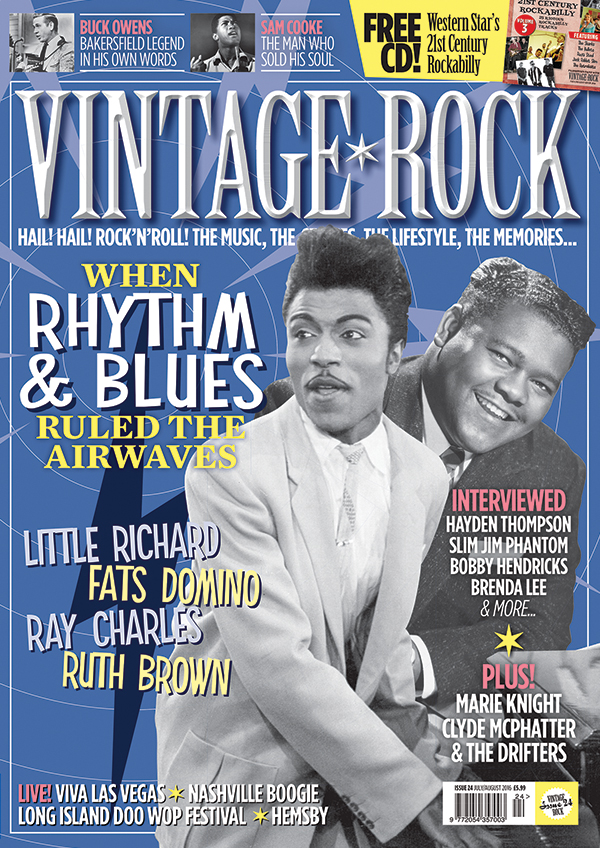 Here's an interesting fact: Elvis's cherished collection of 78s contained within it far more rhythm and blues records than anything else, by a long stretch. Elvis clearly adored R&B, and Johnny Ace, Ray Charles, Fats Domino, 'Big Mama' Thornton, The Dominoes, Lowell Fulson, Arthur Gunter, Roy Hamilton, Ivory Joe Hunter, Lloyd Price, Etta James, James Brown, The Clovers, Willie Mitchell and Jackie Wilson all obviously taught those infamous hips a thing or two. A cursory look at Buddy Holly's personal 45s reveals much the same pattern; his musical heritage was steeped in R&B, and notably – if his 45s are anything to go by, anyway – Ray Charles was his out-and out favourite. We should all take note…
From time immemorial – but especially during the '50s, the decade that broke so much cultural ground – music of all types has feverishly cross-pollinated, genres all the while conversing with one another, both consciously and subconsciously, across the airwaves and in venues across the country, with artists mixing with one another and sharing ideas. We mustn't become blinkered. Deprive your ears of anything at all from this abundant era, or indeed anything that came before it, and you are depriving yourself of the lifeblood of rock'n'roll and, perhaps, most tellingly, you are not aligning yourself with the heir apparent, the anointed 'king' of rock'n'roll.
This issue, we intend to show that the bones of the rhythm and blues fellowship rocked as hard as any rock'n'roller ever could. It was a movement of great pride and stature, of compelling attitudes; men and women who prowled the stages of the US, unleashing a sound and motion that unlocked the secrets to what gets us humans going on a Friday night. Incidentally, Elvis also owned platters by country star Buck Owens and soul pioneer Sam Cooke, both of whom feature alongside the R&B stars that form the backbone of this issue. There's rockabilly too, mind: Hayden Thompson and Slim Jim Phantom on their new albums, fresh blood with Sharna-Mae & The Mayhems, and plenty more. I bid you adieu…
Your FREE CD with this issue:
Western Star – 21st Century Rockabilly CD – Volume 3