Vintage Rock presents Buddy Holly Collectors Edition out now!
By admin | April 7, 2016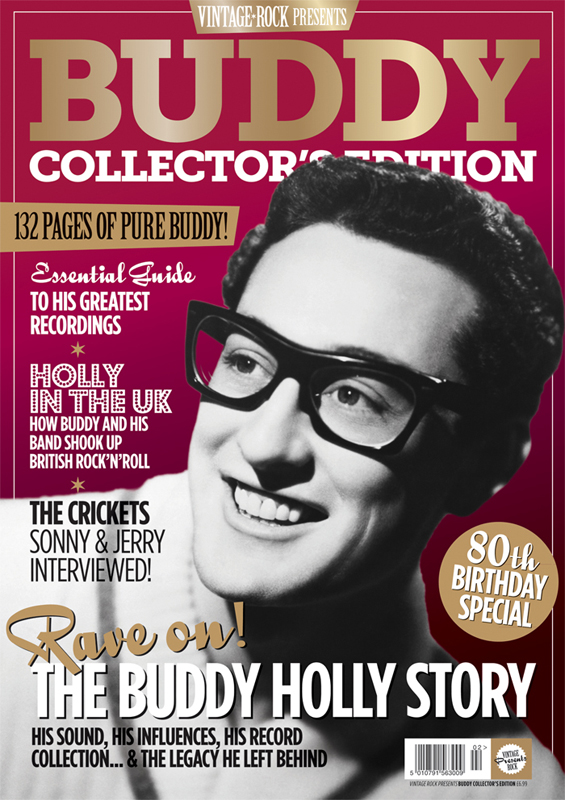 Buy a copy here!
While many would argue that Buddy Holly is the archetypal 'unlikely' rock'n'roll star, we'd argue that this is entirely untrue. The thick black horn-rimmed specs may seem somewhat geeky, but Buddy's decision to keep them on and defy convention created a lasting trend that still resonates today. Buddy's quirky image was the first of the rock'n'roll statements he would make. The iconic choice of guitar would follow – Fender's Stratocaster was about as futuristic as it was possible to be and a thousand teenagers' eyes boggled at the sight of it draped around Buddy's neck.
Following that, there's his spirit of rebellion. Many tried their best to put Buddy in his place but his steadfast self-belief always won out – and often in style. Lastly, of course, Buddy and the Crickets wrote many of their own songs, and in expanding the band from three members to four they laid out the template that countless other groups would follow.
So, far from being a geek who imitated Elvis and then got lucky, Buddy Holly was a tech-savvy forward thinker, a rebel, a musical trail-blazer, and an individual that made others feel they could celebrate themselves rather than hide behind the sway of the crowd. In short, everything we want from our rock'n'roll stars.
In this Buddy Special Edition we explore the man from all angles. We tell the story of the career that began so brightly and ended so abruptly, and proffer our pick of the best of his musical output, but we go a lot deeper. We look into his varied influences, his incredible debut album, his seismic UK tour, his manager and producer Norman Petty, and how – with Petty's help – he created his sound. We have interviews with fellow Crickets Sonny Curtis and Jerry Allison, plus his Lubbock pal and writer of some of his greatest hits Sonny West, and we flick through his treasured collection of 45s in search of magic… that, and a whole lot more. We sincerely hope you enjoy this latest Vintage Rock special edition!