Classic Album: Wanda Jackson – Rockin' With Wanda!
By Vintage Rock | February 1, 2023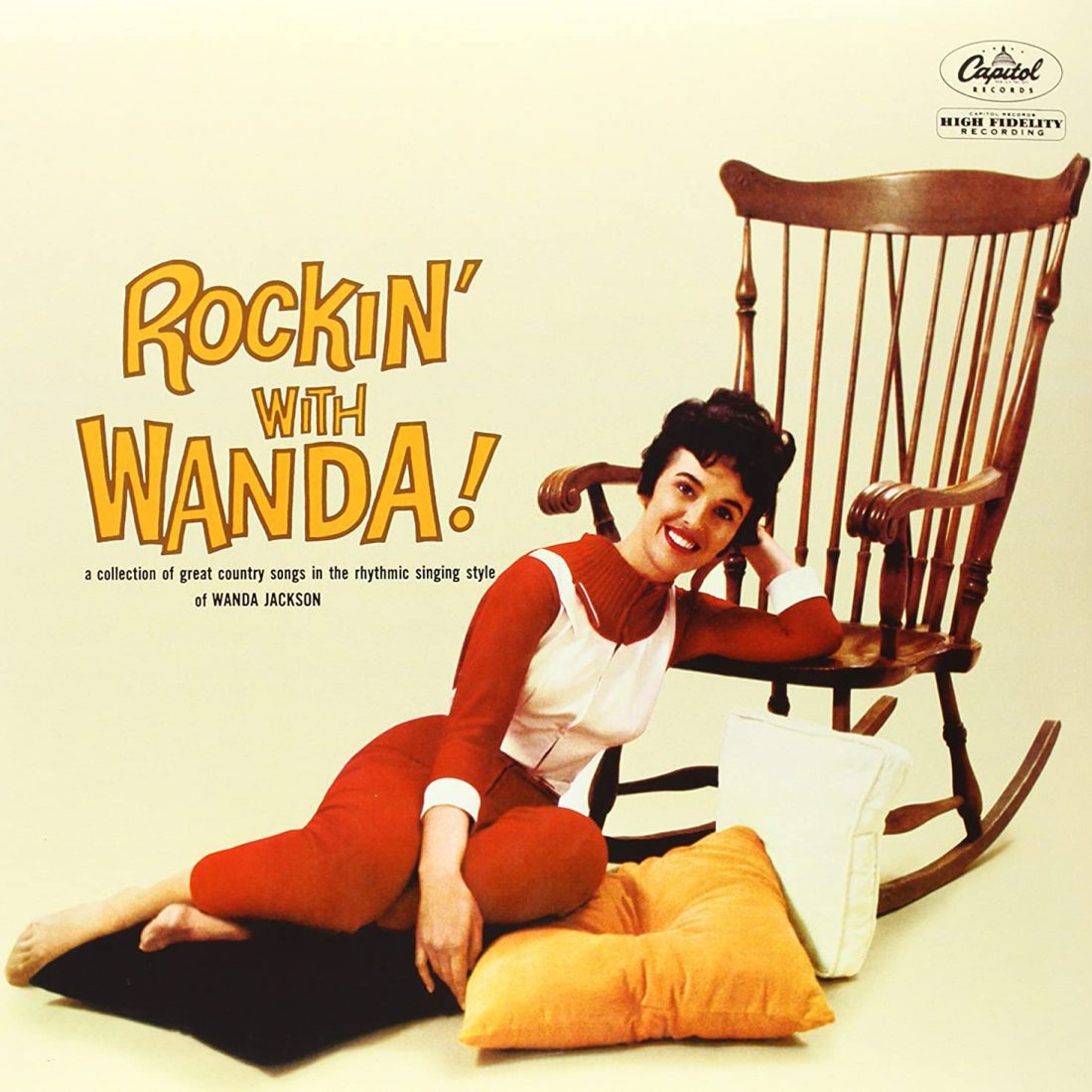 Nobody tore down the walls between country and rock'n'roll like Wanda Jackson, and the long-playing pinnacle of her ferocious talent was Rockin' With Wanda! Randy Fox looks at a timeless classic…
In the spring of 1960, Wanda Jackson was just 22 and had already travelled the road from country to rock and back in her career. Six years earlier she had signed with Decca and scored a Top 10 country hit right out of the gate with You Can't Have My Love.
Two years later, in the fall of 1956, she switched to Capitol Records and scored her second hit, I Gotta Know, a hybrid song that mixed the sizzling new rockabilly sound with a chorus straight from the honky tonk hardwood floor. For the next four years she cut both hepcat boppers and songs of hillbilly heartache, but the primary emphasis was on her rockin' side — with hot, high-powered proto-feminist rockabilly blasts like Fujiyama Mama, Hot Dog! That Made Him Mad and Mean Mean Man.
By the start of the '60s, it looked like those days were behind her. Rock'n'roll had come into its own as a unique style, separate from both country and R&B, and the popularity that rockabilly had enjoyed with country fans was fading. For the first three years of her Capitol contract, each single featured a rocker on the A-side and a country selection on the flip, but Wanda's first single for 1960 (Please Call Today b/w My Destiny) was a double shot of pure country.
Just as Wanda was re-focusing on her honky tonk roots, Capitol Records made the decision to release a retrospective of her rockin' material. Capitol had long viewed LPs as a separate product from singles. The theory was that music fans who spent the extra dollars on a long player expected all-new material. That had been the case for Wanda's first, eponymous LP from 1958 that featured a mix of both country and rockabilly recorded specifically for the album.
By 1960, albums sales were increasing and many labels were cashing in through LPs that collected and repackaged previously released singles. Capitol followed suit in May 1960 with a new series of 'Star Line' LPs that included Rockin' With Wanda!, a collection drawn from Wanda's first 11 Capitol singles.
Side one kicked off with the Wanda composition Rock Your Baby. This fine slice of mid-tempo rockabilly was cut at an April 1958 session, immediately following the sessions for her first Capitol LP. Released in October 1958 as her ninth Capitol single, it perfectly set the tone.
One of Wanda's greatest recordings was next, the atomic-powered blast of Fujiyama Mama. The original 1955 version, recorded by R&B chanteuse Annisteen Allen, was a favourite of Wanda's and she suggested the song to her producer Ken Nelson at a September 1957 session.
It took seven takes to capture the song in all of its estrogen-driven fury. Released as a single in November 1957, it was perhaps a bit too powerful for mainland radio stations, but became a huge hit on the Armed Forces Radio Service Far East Network. From there, it was picked up by Japanese radio and became a sensation, leading to a major tour of Japan for Wanda in the early months of 1959.
The Everly Brothers-influenced sound of You're The One For Me follows. Cut in December 1958, the Steve Rowland composition appeared to be Wanda's rock'n'roll swan song at the time, since her next two singles followed a straight country line. It's followed by a slice of rockin' teen pop, Did You Miss Me. Recorded in February 1957, it revealed that the rockabilly queen could take a softer approach to rockin' when called upon, and yet lose none of her command over rhythm and charm.
Keeping the burner turned down, the slow simmer of Cool Love followed. Co-written by Wanda and her former high school classmate Vicki Countryman, Wanda recorded the song at the same February 1957 session that produced Did You Miss Me. Along with a smouldering expression of sensuality, Cool Love, that featured too-cool-for-school lead guitar from future country superstar Buck Owens — a frequent player on several of Wanda's early Capitol sessions.
To close out side one, Capitol chose the rhythmic dance beat supreme of Honey Bop, written by the trio of Glenn Reeves, Tommy Durden and Mae Boren Axton, the same team that delivered Heartbreak Hotel to Elvis Presley just a few months earlier. Recorded in September 1956 at Wanda's second Capitol session, Honey Bop was released six months later as her seventh Capitol single.
Flipping the platter over, side two opens with Hot Dog! That Made Him Mad. An epic tale of feminine tease and torture, the song was originally recorded by actress/singer Betty Hutton for Capitol in 1954 with the Nelson Riddle Orchestra. Wanda was familiar with the playful, jazzy tune and had performed it at a high school revue during her senior year. She cut the single at her second Capitol session in September 1956 with Joe Maphis supplying lively lead guitar.
Baby Loves Him follows. Recorded at the same session as Hot Dog…, it was a hot, driving rockabilly number written by Wanda. Released as her third Capitol single in February 1957, it demonstrated that she had mastered the rockabilly style.
Next up was Wanda's blistering love letter to a Mean Mean Man. Another self-written number, it showcased her pedal-to-the-metal vocals at their finest. It failed to chart, but became a favourite of Wanda's live sets.
After nine rockers in a row, Capitol decided to slow things down a bit with You've Turned To A Stranger. Written by country singer and songwriter Jack Rhodes (who also wrote such rockabilly classics as Rockin' Bones for Ronnie Dawson and Woman Love for Gene Vincent), it's a beautiful portrait of hillbilly heartbreak and a exemplar of Wanda's mastery of the honky tonk style.
Beautiful does not describe Wanda's opinion of Dona'a Wan'a, a recording she despised, though she gave it a valiant try. Cut in March 1957, the song was rushed-released in an attempt to cash in on the short-lived pop craze for calypso music. Fortunately for her, the song missed the banana boat to the bigtime. It's a bit of a mystery why Capitol chose to include it on Rockin' With Wanda! rather than Let Me Explain, the fiery ballad that was the B-side of Dona'a Wan'a, but such are the mysteries of record company decisions.
The album closes with the song that placed Wanda on the rockabilly road, I Gotta Know. Wanda was first exposed to rockabilly when she toured with Elvis in 1955. Over the next few months she began working rockabilly numbers into her live act, and when she signed with Capitol in the summer of 1956, she was ready to give it a try in the studio.
I Gotta Know gave her a path to ease into hillbilly cat-ville with its mix of rockabilly bop rhythms and honky tonk twang. Written by Oklahoma songwriter Thelma Blackmon, Wanda recorded the song at her first Capitol session in June 1956. It was a major regional hit in several markets including Nashville, Dallas and Birmingham, and rose to #15 on the Billboard country chart.
Although Rockin' With Wanda! appeared to be the capstone to Wanda's rock'n'roll career, it was not the case. Shortly after its release, a DJ in Des Moines, Iowa began using a track from the 1958 Wanda Jackson LP as his theme song. (Let's Have A) Party had originated in the soundtrack of Elvis Presley's 1957 film Loving You, but Wanda learned it from the Collins Kids' blistering cover version. She recorded it in April 1958 for her first album, but it had not been released as a single.
With the song's popularity taking off in the Midwest, Capitol released the two year-old recording as a single in June 1960 with Cool Love as the B-side. (Let's Have A) Party eventually rose to #37 on Billboard's Hot 100, making it Wanda's first pop hit. The single's success spurred sales of Rockin' With Wanda! and prompted Capitol to release another rockabilly album.
In October 1960, Wanda spent four days in Nashville recording her third LP, There's A Party Goin' On, along with several new singles. This second run up the rockabilly mountain led to many recordings that are now considered masterpieces, including Hard Headed Woman, Funnel Of Love, Tongue Tied, and her gender-switched, screeching hot version of the Robins' 1954 #1 R&B hit, Riot In Cell Block #9.
Along with the new rockabilly cuts was a new country sound for Wanda. Right Or Wrong was a self-penned heartbreak ballad; with its mix of country soul and lush pop, it presaged the sound that Patsy Cline would soon ride to stardom. When it finally hit the racks in October 1961, it quickly shot up the charts, topping out at #9 country and #29 pop. It was the first of several crossover hits that helped establish Wanda as a 'new' country heartbreak queen.
Although she continued to record rock'n'roll through the early '60s, it became apparent she needed to focus on the mainstream country market. While the rocking was toned down, the fire, passion and sensuality were still present in songs she cut in the 1960s like The Box It Came In and Tennessee Women's Prison. And for those lucky fans who treasured their copies of Rockin' With Wanda!, the pure rockabilly power was still only a turntable spin away.