Remembering The Girl Can't Help It
By Steve O'Brien | September 13, 2022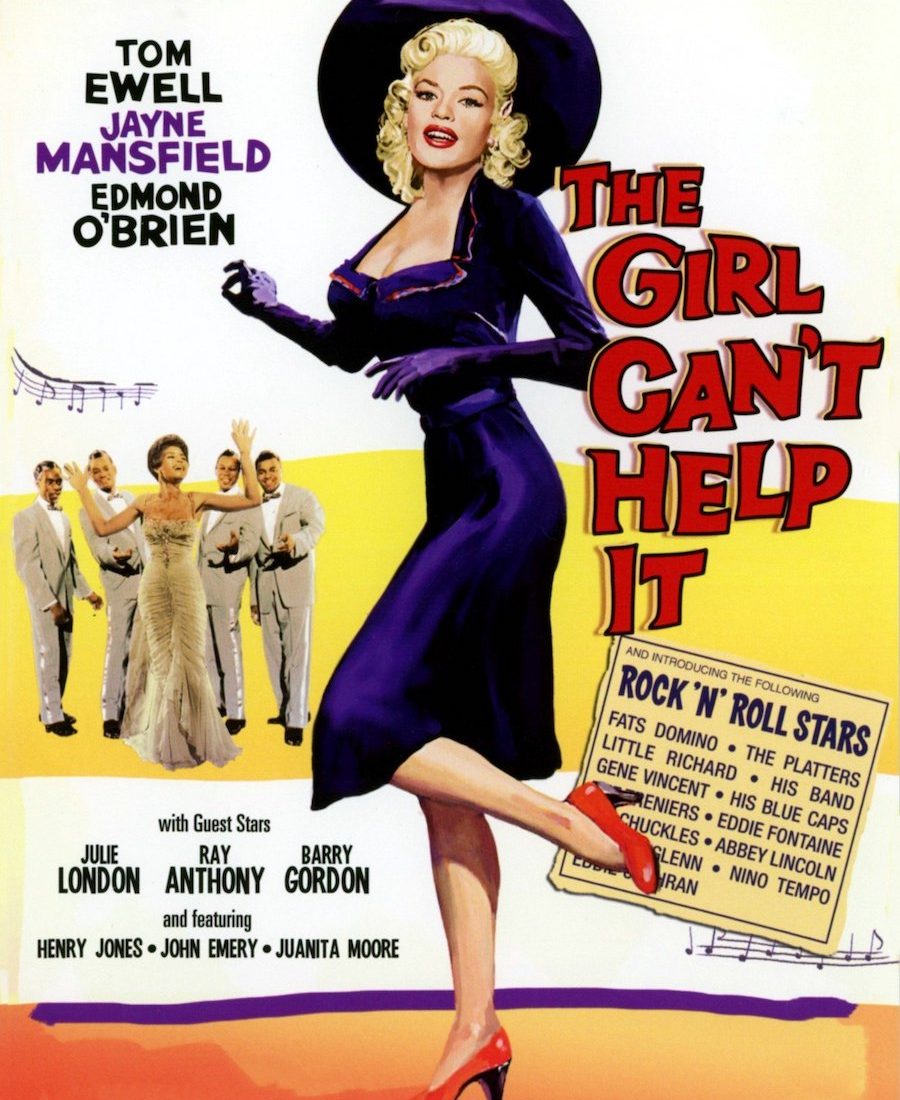 It's the movie that brought us our favourite 50s rock'n'rollers in glorious full colour. Now, 66 years on from its release, we look back at the legacy of Frank Tashlin's The Girl Can't Help It.
Look up Eddie Cochran or Gene Vincent on YouTube and you'll find a miserably short list of foggy monochrome TV recordings that make these two icons of the 1950s seem as historically distant as Charlie Chaplin or Edward VII. But type in 'Eddie Cochran' and 'The Girl Can't Help It' and there the late rocker is, in full glorious colour and in high-definition, as vivid and alive as he was in 1956.
Thank the maker, then, for The Girl Can't Help It. Frank Tashlin's movie may not have won rapturous write-ups at the time, but, 66 years on from its release, this cult rock'n'roll comedy is now rightly celebrated as a classic of its genre – and a cherishable record of a precious time in pop culture.
"It's still the great music film," Paul McCartney once enthused. "They had only treated music films as B-pictures up till then, or used the music just as a theme tune, as in Blackboard Jungle. Or those little black and white productions with Alan Freed as the personality, and lots of what they thought were 'Black acts'… We idolised these people and always thought they were given crummy treatment – until The Girl Can't Help It."
While grown-up critics may have savaged the movie on its release, it was passionately embraced by the younger set, hungry as they were to see the culture they were living up there on the big screen. Sure, there'd been rock'n'roll flicks before The Girl Can't Help It, but never before had so many of the era's starriest names been collected together in just one film, and in colour, too.
When actor Tom Ewell appears at the beginning of the movie, it's in black and white and in the old 4.3 television ratio. "Ladies and gentlemen," he announces, "this motion picture was photographed in the grandeur of Cinescope," he continues, before looking around and then flicking left and right as the picture opens out into widescreen.
"And with gorgeous life-like colour by De Luxe," he adds, as the monochrome screen suddenly floods with oranges and blues. According to McCartney, who saw the film when he was just 14, that opening sequence was "the most fantastic trick ever".
Much has been made over the years of this movie's importance in the story of The Beatles. It's said it inspired John Lennon to pick up his first guitar and that it was Macca's approximation of Eddie Cochran's performance of Twenty Flight Rock from the film that sealed his place in The Quarrymen.
It was clearly a movie that was so critical to the Fabs that, on 18 September 1968, they purposely rescheduled the recording of Birthday from 'The White Album' simply so they could watch the British TV premiere of The Girl Can't Help It. As Beatles historian Mark Lewisohn wrote: "It is impossible to overestimate the impact made by The Girl Can't Help It on Liverpool teenagers."
McCartney had a point when he suggested that, before The Girl Can't Help It, the big screen's flirtation with the emerging rock'n'roll scene was either half-hearted, patronising or exploitative. There's none of that in Frank Tashlin's picture. Rock'n'roll is woven into the very fabric of the movie, and even the older characters are in thrall to this musical revolution.
"Okay, so Jerri can't sing," says the fortysomething 'Fats' Murdock after showing his apparently tone-deaf girlfriend a clip of Eddie Cochran on TV. "Well that guy ain't got a trained voice either and he's one of the top record stars in the country. Why? Cos he's got a new sound!"
The movie showcases many of the biggest and buzziest recording names of the time, including Little Richard, Gene Vincent And His Blue Caps, Fats Domino, The Platters, The Treniers and Eddie Fontaine. And, generally speaking, they're not relegated to the background either.
There are no teases of tracks in The Girl Can't Help It. If you were a fan of Little Richard's Ready Teddy or Fats Domino's Blue Monday, you were getting almost the full song in this film, which, at a time when TV appearances from Black artists were rare, makes The Girl Can't Help It one of the most culturally valuable movies of the 1950s. 
Of course, one stellar name is conspicuous by his absence. Fox certainly wanted Elvis Presley for the picture, but Colonel Tom Parker demanded £50,000 for his boy to sing two songs. The studio's Head Of Production Buddy Adler erred. Parker made them an offer – he would flip a coin. Heads, Fox gets Elvis for free and a third song; tails, Fox coughs up £100,000. Adler declined the offer.
One person who believed Fox had made a mistake in not agreeing to Parker's demands was the film's star Jayne Mansfield. It can't be underestimated how crucial the 23-year-old actress was to the success of The Girl Can't Help It. Unfairly maligned as a kind of poundshop Marilyn Monroe, Mansfield had made a name for herself on Broadway the year before with the satirical play Will Success Spoil Rock Hunter?
Beyond her obvious assets ("Jayne Mansfield and her cantilevered cleavage – what more do young teenagers want?" recalled a still lust-struck Paul McCartney many years later), the actress brings effortless warmth to the role of Jerri, whose dreams of domestic bliss are cruelly ignored by her Svengali boyfriend whose only ambition is to make her into a star, despite her apparent lack of any talent.

The film has fun with the paralysing effect Mansfield's beauty ha on men. Tashlin's background as a Looney Tunes animator is clearly on show with moments like that when a man's glasses crack as she shimmies up the stairs and when a lovestruck milkman's bottle overspills as she passes, in a lewd visual joke that might have been considered too on-the-nose even for the Carry Ons.
It's fascinating how prescient much of The Girl Can't Help It seems now, in an age where the pursuit of celebrity more than ever has little to do with talent or achievement. When Murdock asks agent Tom Miller to make Jerri into a star, he's tasked with simply showing her off around town, telling her, "Don't say

anything, just say, 'Ask my agent'." It's only later that Miller discovers quite how little talent his new project has. Visiting a rehearsal studio, he sets out to ascertain how good a singer she is. Alarmingly, her voice is so wretched it shatters lightbulbs.
Jerri's lack of vocal prowess doesn't deter Murdock, however, and he digs out a song he penned in the joint, Rock Around The Rockpile. Jerri's job on the track is to deliver the sound of a prison siren, and when it's completed he asks Miller to tout it around. 
Taking the record to Chicago in an attempt to get it on the country's jukeboxes, Miller soon discovers that the person he's talking to, jukebox king Wheeler, is an old rival of Murdock's, who refuses to playlist the song. Undeterred, Murdock simply muscles in on Wheeler's business, replacing his old adversary's jukeboxes with his own.
And what do you know, the song becomes a giant hit and the film climaxes with Jerri taking to the stage at the Rock And Roll Jubilee and revealing a dazzlingly beautiful singing voice. "I always could sing," Jerri confesses to Miller afterwards. "I thought if I was real awful, I'd get out of owing him."
Against a budget of $1,310,000, The Girl Can't Help It went on to gross $6,250,000 – considerably more than any rock'n'roll movie before it, including Rock Around The Clock, which had premiered nine months earlier. Its influence was profound.
It's clear that director Richard Thorpe was watching, because the iconic Jailhouse Rock sequence from the film of the same name – released one year later – has striking similarities to the Rock Around The Rockpile finale of The Girl Can't Help It.
And, as Mark Lewisohn pointed out, it can't be overstated quite how seismic the movie was for young people in the 50s. Jimmy Page and Jeff Beck, both later of The Yardbirds, have spoken of their love of The Girl Can't Help It, with Beck calling it "the best rock'n'roll movie ever filmed".
The film also made Jayne Mansfield a bona fide star and one of the most enduring sex symbols of the 20th century. She brings real heart and a touching sweetness to the role of Jerri, and often acts her more seasoned co-stars off the screen.
But, above all, it's for its music that The Girl Can't Help It is remembered. In 1956, it brought rock'n'roll's most exciting names to the attention of millions. It delivered the thrills, the glamour and the voltage of American music right into the laps of rock-thirsty British teens.
And so many years on, it's a pristine, 35mm snapshot of one of the most important years in rock'n'roll history. The adults might have sneered at The Girl Can't Help It in 1956, but, as ever, what did they know?