The new issue of Vintage Rock is on sale now!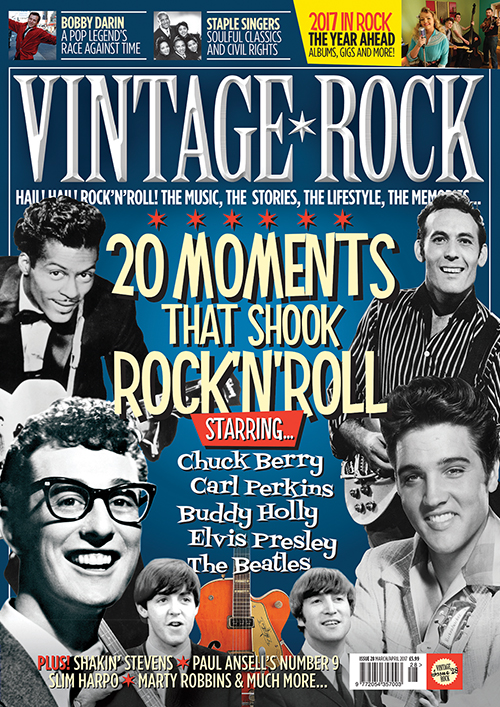 For our special cover feature, we turn our attention to the 20 earth-shattering events that shaped our favourite music – it's all there, from the headline-making explosions onto the scene by the likes of Elvis, Chuck Berry and Little Richard that made the world sit up and take notice through to the tragic death of Buddy Holly and Jerry Lee Lewis' fall from grace.
Elsewhere, we look to the future to reveal the bands, gigs, weekenders and albums to check out in the rockin' year ahead – there's a whole heap of exciting stuff on the horizon and proof positive, if any were needed, that the rock'n'roll scene both here and abroad is in very rude health indeed.
In a time of great political upheaval in the United States following Donald Trump's Presidential election win, it seems an appropriate time to take a look back at The Staple Singers, and the central role they played in the civil rights movement during the '60s and '70s. Their words of compassion and unity now sound more pertinent than ever.
Ahead of his latest tour promoting the critically-acclaimed album Echoes of Our Times, Shakin' Stevens talks to VR about his roots in rock'n'roll and why he feels that his new record has given his career an unexpected reboot. We also take a trip back in time to explore the extraordinary contribution that Philadelphia has made to rock. If the only thing that comes to mind is Gamble and Huff's slinky strings-laden '70s soul then think again…
All that plus in-depth features on blues legend Slim Harpo and the remarkable life story of Bobby Darin as well as all the latest album and gig reviews means another packed issue for vintage music fans.
We hope you enjoy the issue! Buy your copy here: http://bit.ly/2lmvhiX