Subscribe to Vintage Rock
Subscribe to Vintage Rock and get your welcome gift bundle!
Start your subscription to Vintage Rock magazine today; the glorious glossy that is dedicated to rock'n'roll from the early 50s to mid 60s – The Golden Age!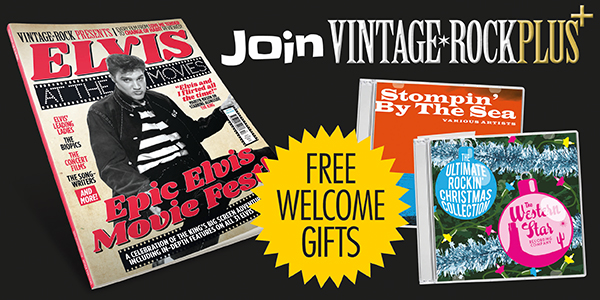 Get TWO rock'n'roll compilation albums plus our Vintage Rock Presents Elvis at The Movies special (all worth £30!) absolutely free when you subscribe today. You'll save a huge 35% off the cover price!
Your free gifts:
The Ultimate Rockin' Christmas Collection features tunes guaranteed to add a rock'n'roll twist to your festive season, and Stompin' By The Sea is a rockabilly fan must-have featuring tracks from Delta 88, Jack Rabbit Slim, The Bullets, The Retrobaits and much more. Our Elvis special takes a look back at the King's big screen oeuvre, putting a spotlight onto some of the great – and some of the not so great – movies in the Elvis canon – a must-have collectable for all Elvis fans.
Great reasons for subscribing to Vintage Rock today!
Save 35% on the price in the shops
Receive 6 issues per year
Free delivery direct to your door
Access the entire Vintage Rock digital issue archive
Save 10% on all our back issues and specials
Get the monthly e-newsletter
Never miss an issue ever again