Subscribe to Vintage Rock magazine
Subscribe to Vintage Rock magazine and immerse yourself in music nostalgia.
Celebrating great rock 'n' roll, rockabilly, R&B and soul music, Vintage Rock is a must for any music lover. With a Vintage Rock subscription, you'll get every single issue – each packed with exclusive interviews, in-depth features, comprehensive reviews , and all the latest music news – delivered straight to your door. Along with discounts on any past issue or special edition, and an informative fortnightly e-newsletter to keep you entertained between issues, a Vintage Rock subscription is the ultimate purchase for any rock 'n' roll fan.
Why subscribe to Vintage Rock?
Receive Vintage Rock magazine delivered to your home every other month
Catch up on back issues and Vintage Rock Presents specials for less, with a 10% shop discount
Get our email newsletter every fortnight, packed with all the latest news on your favourite artists
Try other magazine subscriptions such as Classic Pop, for 10% less
Our latest Vintage Rock subscription offer…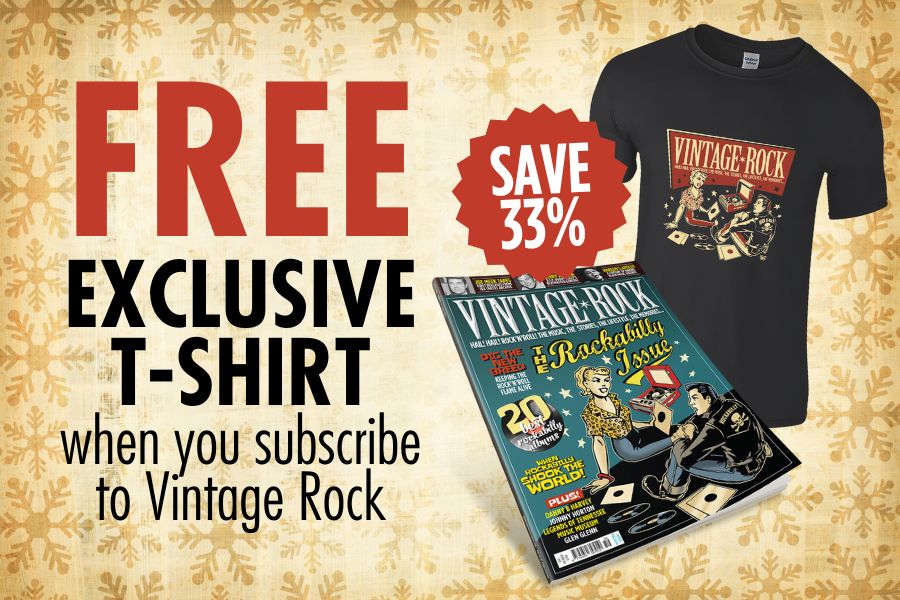 Get a FREE exclusive Vintage Rock t-shirt when you subscribe
Subscribe to Vintage Rock today and we'll send you a FREE limited edition Vintage Rock t-shirt, designed by Vince Ray.
On top of that, you'll also save 33% off your subscription, get free delivery of every issue direct to your door, and receive exclusive shop-wide discount. Trust us, you don't want to miss out on this deal.
Subscribe today and get your free welcome gift!