Eddie Cochran on the big screen
By Vintage Rock | March 14, 2022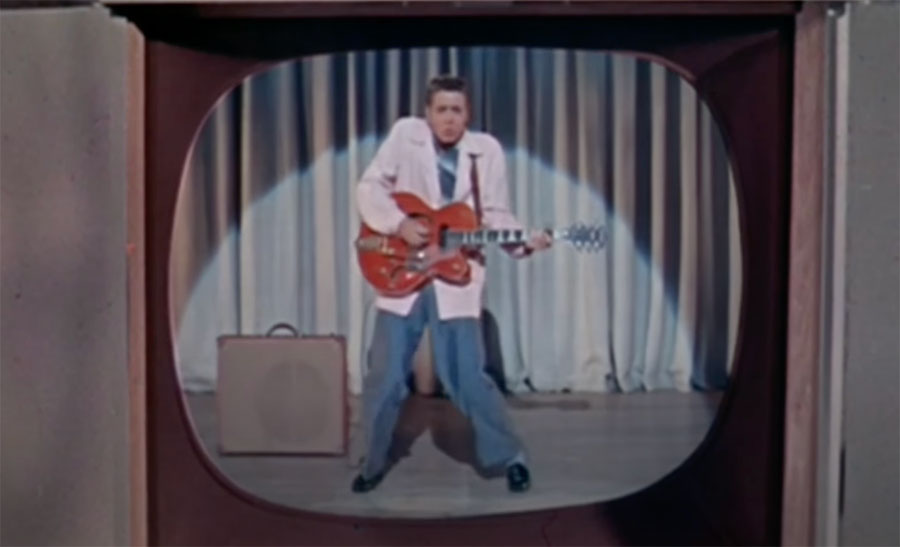 Teenagers were flocking to the movies in the 1950s, so, if you were a young rock'n'roller, where better to showcase your looks and sound than at the flicks? And Eddie blew everyone else off the screen… By Bill Dahl
Rock and roll exploded on the big screen in 1956 and '57, one hastily conceived movie after another exploiting the new musical trend for all it was worth and then some. Rock Around The Clock, Don't Knock The Rock, Rock Rock Rock! – every one of them scattered irresistible clips of pioneering artists into generally inane plotlines. But one of those now-historic flicks was an altogether different piece of work, written with grace and style and filmed in gorgeous colour: The Girl Can't Help It. Of all the legends-to-be gracing the movie's incredible musical cast, none was quite as unknown at the time he filmed his part as Eddie Cochran.
Eddie hadn't even signed with Liberty Records yet when he cut the song that he mimed in the movie. Written by a staffer at Sylvester Cross' American Music, Nelda Bingo, under the alias of Ned Fairchild, Twenty Flight Rock detailed the travails forced upon a lad so eager to see his girl that he overcomes a broken down elevator by scaling 20 lofty flights of stairs to reach her apartment. 
Cochran cut the tune at a July 1956 demo session at Gold Star Recording Studios with his trusty bassist Connie "Guybo" Smith and his manager Jerry Capehart keeping the torrid beat by slapping a cardboard box in lieu of drums.
 Cochran's conduit to cinematic immortality was Russian-born movie director Boris Petroff, who asked the lad if he wanted to perform in a movie being directed by Frank Tashlin then titled Do-Re-Mi. Eddie pulled Twenty Flight Rock from American's files and laid it down on tape with an incendiary vocal effort and a sizzling guitar solo halfway through. Tashlin must have liked what he heard; on 14 August, Eddie filmed his scene at 20th Century Fox.
More than any other rock and roll movie of its era, The Girl Can't Help It wittily incorporated each of its musical guest stars into the plot in some way, rather than just dropping performances willy-nilly into the cinematic action. The way Tashlin and Herbert Baker fashioned the script, Eddie was dubiously introduced as, "one of America's top rock and rollers" by Los Angeles DJ Peter Potter, cast as the host of a TV variety show. 
Looking quite a bit like Elvis with a pompadour, long sideburns and elastic legs, a solo Cochran, wielding his red Gretsch 6120 axe, blasts through Twenty Flight Rock to the chortling delight of gangster Fats Murdoch (portrayed by Edmond O'Brien), who wants to make his gorgeous but talentless platinum blonde girlfriend Jerri Jordan (Jayne Mansfield) a singing star. Jerri and her lovestruck agent Tom Miller (Tom Ewell) aren't much impressed by Cochran's performance as they also watch Eddie's electrifying performance on the tube, but at least Jerri's housemaid digs him – she dances happily around the living room throughout the number. The only downside: Cochran's slashing guitar solo was edited out of the film.
Tashlin's comedic flair (he'd directed a slew of Warner Bros. cartoons during the 40s before advancing to live-action movies, including Artists And Models and Will Success Spoil Rock Hunter?), eye-popping colour cinematography, and a stellar cast of rockers headed by Little Richard, Fats Domino, Gene Vincent and The Treniers made The Girl Can't Help It the classiest and most satisfying rock'n'roll film of its era. Released on 1 December, 1956, it introduced Eddie to teenagers worldwide. For unknown reasons, Liberty Records didn't release Twenty Flight Rock as his first outing for the label, opting instead for Sittin' In The Balcony. Lucky British and Australian audiences were able to buy Twenty Flight Rock on wax right away.
If The Girl Can't Help It represented the absolute pinnacle of 1950s rock'n'roll moviemaking, Untamed Youth, the next film Cochran appeared in, ranked nearer to the opposite extreme, though it was an engaging piece of melodrama all the same. The low-budget black and white potboiler was set on a rural penal farm where two sisters (the voluptuous Mamie Van Doren and Lori Nelson) are sent after being arrested for skinny dipping. The sweaty storyline is akin in some ways to a women's prison flick (the sex-starved inmates also include Jeanne Carmen and nubile Yvonne Lime), but when everyone heads to the cotton fields for some serious picking, it's a coed effort all the way.  
Filmed on the cheap in Bakersfield, California by director Howard W Koch, the film cast Eddie as a character named Bong (it was a speaking part). He gets his musical interlude right in the middle of the field, kicking off a defiant Cotton Picker a cappella before Guybo Smith's bass line magically floats in and then the girls start clapping in time with the beat and screaming as though they're all in serious heat. Shorn of his Gretsch, Cochran somehow makes do with his cotton sack instead (could this be the birth of the air guitar?). Finally the guard tells them all to get back to work, and the song fades into the ether. Koch managed to better himself substantially later in his career, producing the Academy Awards telecast eight times and serving as president of the Academy of Motion Picture Arts and Sciences from 1977 to 1979.
Van Doren proved she could rock over the course of the movie, belting Oo Ba La Baby (Cochran and his manager Jerry Capehart shared writers' credit on the song with the film's musical director Les Baxter and Lennie Adelson) and Salamander with a powerful, rockabilly-styled fervour. Sadly, she didn't seriously pursue a musical career after that, continuing her film exploits instead.
Mamie's four songs from Untamed Youth were issued as a soundtrack EP on Prep Records, a fledgling Capitol subsidiary with an intriguing roster that also included Louis Prima's rowdy sax blaster Sam Butera, the Cues, and a young Ray Stevens (Van Doren's EP boasted a hot cheesecake photo on its cover). Liberty, on the other hand, didn't even bother to press up Cotton Picker, again missing an easy movie tie-in. Untamed Youth was screened in New York in March of 1957 but quickly faded from theatre screens with few moviegoers any the wiser.
Although he was headed for an imminent fall due to the Congressional payola hearings, Alan Freed appeared to be sitting on top of the rock and roll world as he filmed Go, Johnny, Go!, which hit US theatres in June of 1959. It was reportedly filmed in an extremely brief five days at Hal Roach Productions in Culver City, California. 
Freed had previously starred in his own very loosely adapted biopic, Mister Rock And Roll, and he was front and centre as himself once again in Go, Johnny, Go!, joined by no less than Chuck Berry as his loyal sidekick, teenage heartthrob Jimmy Clanton, and an array of singing stars that included Jackie Wilson, Ritchie Valens, The Flamingos, Jo Ann Campbell, The Cadillacs, and Harvey Fuqua. Even with all that star power, Eddie was the only one to merit "Special Guest" billing in the credits.
Cochran filmed two songs for Go, Johnny, Go!, but his ballad I Remember was left on the cutting room floor. That must have been a last-second decision by director Paul Landres, since the label on Cochran's Liberty 45 of the song read "From the Hal Roach Prod. 'Johnny Melody,'" which was the movie's working title. That left Teenage Heaven, the other side of that 45, as Cochran's lone number in the black and white musical. It came during an extended series of musical performances set at a theatrical concert not unlike the one Freed hosted at Loew's State Theatre in New York over Christmas of 1958 where Eddie was a co-headliner. 
Dressed casually in a cardigan sweater and open-necked shirt rather than the flashy suits that most of the rockers wore for the movie, Eddie delivered his hip update of the campfire perennial Home On The Range as seen from the teenage perspective. Teenage Heaven elicited a strutting lip-synch from Cochran; during Plas Johnson's sax solo, he took off his guitar and danced with it as though it was his date at the prom (maybe that's why Freed introduced both Eddie and his "crazy guitar")! 
Exposure in Go, Johnny, Go! didn't help Teenage Heaven much on U.S. pop charts. It squeaked onto Billboard's Hot 100 for a paltry week at No.99 and promptly disappeared. It didn't turn up on the UK hit parade at all. 
But few performers appeared in three rock and roll movies during the 1950s, so that was a substantial accomplishment in itself, testimony to Eddie's charismatic good looks and wide-ranging musical appeal. There can be little that doubt more memorable movie bows would have been in Cochran's future had he only lived to make them.