Subscribe to Vintage Rock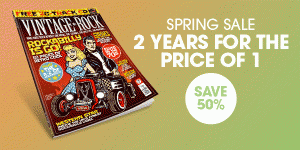 Vintage Rock – 2 years for the price of 1!
Subscribe to Vintage Rock today and you'll receive two years for the price of one. Spring into this new season with an amazing 50% off the store price with delivery included too!
Vintage Rock celebrates a time when music really did change the world. From the showmanship of Elvis Presley and Little Richard, to the songcraft of Buddy Holly and Chuck Berry, to the pioneering recordings of Gene Vincent, Eddie Cochran and a host of other legends, Vintage Rock celebrates classic rock'n'roll for a contemporary audience. Featuring the finest writing, rare pictures, exclusive interviews, reviews of new singles and albums, and coverage of today's vibrant live scene, Vintage Rock is a unique magazine that relishes the vitality and flair of the music that started everything.
Benefits when you subscribe to Vintage Rock
Just £35.90 for a 2 year supply of Vintage Rock
Save 50% on the shop price
Get 6 issues per year
Free delivery direct to your door
Never miss an issue
CLICK HERE TO SUBSCRIBE ONLINE
We have savings for our International readers too…
And pay in your local currency!
Europe: Just  €65.98 for 2 years – saving 50%
USA/Canada: Just  $35.90 for 2 years – saving 50%
Australia: Just AUD$89.90 for 2 years – saving 50%
Rest of World: Just  £78 for 2 years
CLICK HERE TO ORDER
Offer ends 31 March 2019. 2 for 1 offer is only available to UK, USA, Australia and Europe in local currency. Offer is based on the cover price multiplied by 2 years' worth of issues divided by 2, thereby saving 50% off the store price. Your subscription will start with the next available issue. You will receive 6 issues of Vintage Rock per year. Offer code SPR19WEB.
---
GET THE FREE VINTAGE ROCK APP
We also have a fantastic Vintage Rock app where you can download the latest issue of Vintage Rock for just £4.99 ($4.99). Or you can get the desktop/Android version here.
Give the app a test spin
Follow this link to download and read this free issue of Vintage Rock magazine
---