Subscribe to Vintage Rock
Your Vintage Rock magazine subscription offer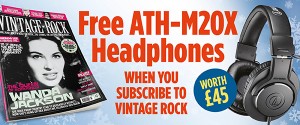 Start your subscription to Vintage Rock magazine today; the glorious glossy that is dedicated to Rock and Roll from the early 50s to mid 60s – The Golden Age!
A subscription to Vintage Rock magazine will feed you updates of the latest releases and tours, comebacks of classic artists and those paying tribute to those classic artists.
Subscribe now to Vintage Rock and enjoy this fantastic read at an excellent price…or give that someone special the perfect gift that lasts for an entire year! All of our subscriptions include the brilliant bonus of free delivery directly to your door, so that every single issue will get to you before it reaches the newsstand!
Great reasons for subscribe to Vintage Rock today!
Get a free welcome gift! High quality headphones worth £45
Just £25 every 12 months
Save 30% on the price in the shops
Receive 6 issues per year
Free delivery direct to your door
Never miss an issue ever again
Great offers for international delivery!
Sorry, the free welcome gifts are available for UK subscription orders only. But we have a some great savings for our international readers too!
Europe: €40 every 12 months – SAVE 33%
USA/Canada: $60 every 12 months – SAVE 33%
Australia: AUD$67 every 12 months – SAVE 25%
Rest of World: £42 every 12 months
Terms and conditions:
Your subscription will start with the issue on-sale in January 2020. Vintage Rock is published 6 times per year.
All savings are based on the local cover price, and are available to customers in the UK, Europe, Australia and North America, paying by Direct Debit or recurring card payment only.
The free gift is only available to UK Direct Debit orders only. Gifts are subject to availability. We reserve the right to substitute the gift with an alternative of similar value if stocks become exhausted.
**************************************************************************
A magazine subscription makes the perfect Christmas gift

Christmas is just around the corner! Don't stress, let us do the hard work. Gift buying is hassle-free when you buy magazine subscriptions for your friends and relatives. It's the simple choice and will bring joy to them all year round! You can order right up until Christmas Day and we'll send you an electronic gift card to pass to your loved-one so they know the first issue is coming in January. So whether they're into running, baking, music, colouring, Italy, healthy eating or vegan food & lifestyle, we've got some fabulous magazines to cater for lots of different interests.
Prices start from just £14 and we have savings of up to 50% off the cover price wherever you are.
CLICK HERE here to see all our offers
**************************************************************************
Want to know more about Vintage Rock magazine?
Check our previous issues, click here to view back issues of Vintage Rock magazine.
**************************************************************************
Get the free Vintage Rock app!
Download the free Vintage Rock app to your mobile and start reading the magazine on the go.
Download for iOS / Download for Android
Get the latest issue of Vintage Rock for just £5.99
Or subscribe to the digital edition to save and pay just £5.16 per issue